Elegant Wines
Each of this wines is special
Wines do not only undergo a maturing process where the taste nuances change from youthfully fresh to ripe. Unlike "synthetic" beverages that are prepared in the same way every time, wine is dependent on many natural factors, like topography and geology, temperature, solar radiation and precipitation. The whole wine-growing year is reflected in a wine and makes every vintage special.
Paul Schandl has committed himself to use this energy of the terroir of Lake Neusiedl to produce especially expressive vintage wines:
"I want to capture everything that the wine has collected during one year in one bottle, like it was a picture that has been exposed over 365 days."
This is why the assortment of the brand Peter Schandl does not offer every wine every year. Only if the optimal conditions for a certain wine were met in one year, a vintage wine will be produced.
Family wine growing tradition in Rust since 1741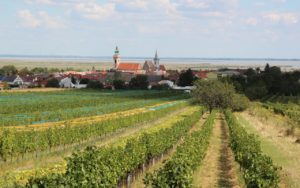 Paul Schandl runs the winery, which has been owned by our family for 280 years, together with his wife Elle and with the assistance of his mother Ursula and his father Peter. The vineyards grow at the best locations around Rust, where wine has been cultivated for thousands of years. As a winegrower conscious in tradition, Paul Schandl wants to preserve historic varieties like Furmint, Gelben Muskateller and Welschriesling with special focus on the development of the sweet wine specialty Süßweinspezialität Ruster Ausbruch.
"For me the Ruster Ausbruch is the only sweet wine capable of combining fire, fruit, finesse and balance. A natural firework of the senses."
This is how Paul Schandl describes the complex and powerful sweet wine with a sheer endless finish and almost unlimited storage capability.
But not only tradition is important to our family. We are also open to new developments. In the 1980s, Peter Schandl brought the Cabernet to Rust und Paul Schandl enjoyed further education in internationally renowned wineries in South Africa, New Zealand and California. In times, where new markets are opening and new emerging wine-growing regions are arising, it is important to know about the proven approaches that have been used for hundreds of years. However, it is also important to strive for further development with spirit of discovery and curiosity.
Wine growing and wine producing are cultural achievements that are always in process. Every year, we produce new special wines at our winery with highest demands to achieve quality.
Come and visit Family Schandl at their winery from the 15th century. Only a few steps away, Barbara Schandl owns the exquisite wine tavern Buschenschank Peter Schandl. All those, who want to stay longer, are welcome to be guest at the heart of Rust at Rust at Hotel Schandl.
We look forward to your visit and hope you enjoy our wines.